Top 5 Communities 10 Minutes From Siesta Key Beach, Sarasota, Florida
Posted by Daniel MacKinnon on Thursday, June 1, 2023 at 12:45:42 PM
By Daniel MacKinnon / June 1, 2023
Comment
Top 5 Communities 10 Minutes From Siesta Key Beach: A Detailed Look at Palmer Ranch, Gulf Gate Estates, Osprey, Southgate, and The Landings
Living near the iconic Siesta Key Beach is a dream for many. This guide introduces five wonderful communities—Palmer Ranch, Gulf Gate Estates, Osprey, Southgate, and The Landings—all within a 10-minute drive from the dazzling white sands of Siesta Key Beach.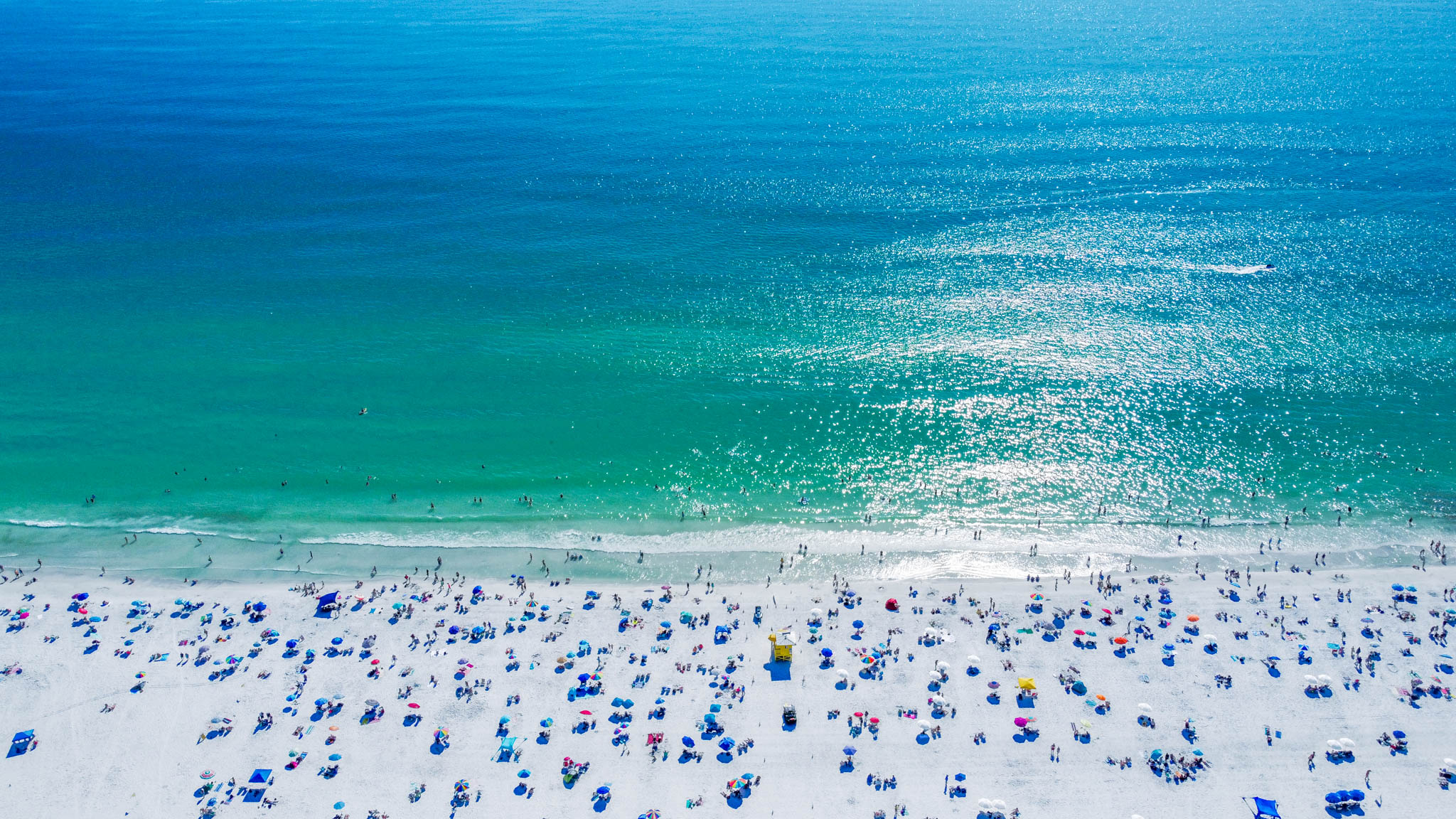 1. Palmer Ranch: A Blend of Tranquility and Convenience
Sprawling across the verdant heart of Sarasota County, Palmer Ranch perfectly encapsulates the blend of tranquil living and urban convenience that modern homeowners crave. The meticulously planned community extends over 10,000 acres, painting a vibrant tableau of architectural aesthetics with a diverse range of single-family homes, condominiums, and villas.
As you travel the streets of Palmer Ranch, you are presented with homes that blend modern comfort with timeless design, each a testament to the thought and care invested in this thriving community. The residences are designed to cater to a spectrum of needs, from cozy villas perfect for single inhabitants or couples to expansive single-family homes ideal for larger families, offering plenty of room for growth and memories.
This delightful mix of residences is nestled amidst a landscape where nature and urban planning harmoniously intertwine. The community is characterized by an extensive network of trails, inviting residents to step outside their front doors and into a world of recreational delight. Whether you prefer cycling at dawn, jogging under the warmth of the midday sun, or indulging in serene strolls under the starlit sky, the trails wind and weave their way across Palmer Ranch, revealing a new facet of the area's natural beauty with every step you take.
The community's impeccable landscaping enhances the overall atmosphere of tranquility. Trees reaching towards the sky, bushes trimmed to perfection, flowers blooming in a symphony of colors, and lush green expanses of lawn paint a picture of serenity that soothes the senses and calms the mind. This commitment to creating a tranquil environment makes each return home a welcome retreat from the outside world's demands.
Beyond the aesthetic appeal and recreational opportunities, Palmer Ranch prides itself on its rich amenities that cater to every facet of life. Shopping enthusiasts will find much to love with the various shopping centers spread across the community, from supermarkets for your daily essentials to boutiques that cater to your unique style.
Families, in particular, will appreciate the proximity to top-rated schools, ensuring their children can access quality education within the community. In addition, healthcare facilities are readily available, providing peace of mind for all residents, particularly retirees, who value having such services within arm's reach. These essential amenities, coupled with the inherent allure of the community, make Palmer Ranch a favored choice for families and retirees alike.
Thus, Palmer Ranch is a testament to the possibility of harmonizing tranquil living with urban convenience, making it a beacon for those seeking a lifestyle that offers the best of both worlds.
2. Gulf Gate Estates: A Diverse and Dynamic Community
Just southeast of the crystalline shores of Siesta Key Beach, you'll discover the vibrant community of Gulf Gate Estates. This gem in the heart of Sarasota is known for its kaleidoscopic real estate landscape, where a broad spectrum of homes caters to various tastes, lifestyles, and budgets.
The beauty of Gulf Gate Estates is not merely skin-deep. It's a community that is as diverse as the architecture of its homes. From quaint bungalows echoing the charm of yesteryears to modern condos that ooze contemporary style and expansive family homes that offer an inviting space for families to grow, Gulf Gate Estates is a testament to the dynamic mix of residents that call this community home.
For those drawn to the allure of the great outdoors, Gulf Gate Estates unveils an array of parks that dot the community landscape. These green oases are the perfect setting for many outdoor activities. Whether you prefer an invigorating morning jog, an afternoon picnic with the family, or simply watching the sunset paint the sky with shades of gold and crimson, the community's parks offer ample opportunities to reconnect with nature without straying far from home.
At the heart of Gulf Gate Estates stands the state-of-the-art Gulf Gate Library. This architectural marvel is much more than a repository of books; it serves as the lifeblood of the community. Its expansive collection of literature, multi-media resources, and community-focused events and programs fosters a sense of shared identity and unity among residents.
The community's dynamism extends to its culinary and shopping scene as well. From boutique shops boasting unique finds to an eclectic array of restaurants serving delectable cuisine from around the globe, Gulf Gate Estates presents a rich tapestry of experiences that engage the senses and tantalize the palate.
Whether you're a food lover eager to sample the international fare, a shopaholic seeking the thrill of a great find, or a family looking to engage in community events, Gulf Gate Estates offers a lifestyle as varied and dynamic as its residents. This diverse and vibrant community is more than a place to live—it's a place to experience the richness of life and is ready to welcome you into its fold.
3. Osprey: Coastal Living at Its Best
Nestled between the bustling cities of Sarasota and Venice, Osprey serves as an idyllic oasis that embodies the essence of coastal living at its finest. With its close-knit community, picturesque natural beauty, and unparalleled proximity to the enchanting Gulf Coast, this gem of Sarasota County is a highly sought-after destination for those yearning for the tranquility of coastal living yet desiring easy access to the amenities of larger urban areas.
Osprey is a community where you don't merely reside; you belong. This friendly neighborhood emanates a welcoming ambiance that fosters deep bonds among residents, cultivating a sense of togetherness that makes every day like a celebration of community spirit. Whether greeting neighbors during your morning walk or engaging in lively community events, life in Osprey offers countless opportunities for genuine connection and camaraderie.
The natural beauty of Osprey is a testament to the untouched splendor of Florida's Gulf Coast. Here, the verdant landscapes are marked by towering palms swaying gently in the coastal breeze, and the sky mirrors the hues of the turquoise waters that serve as the perfect backdrop to the community. The rhythmic lullaby of waves lapping against the shore and the whisper of the wind through the trees are a constant reminder of the tranquil beauty that characterizes this coastal paradise.
One of the community's crowning jewels is the Historic Spanish Point. This 30-acre museum and environmental complex is a gateway to the region's rich past, inviting visitors to step back as they explore its archaeological sites, historic buildings, and beautiful gardens. Whether you're a history buff, a nature lover, or simply seeking a unique cultural experience, Historic Spanish Point offers a wealth of exploration and discovery.
But the appeal of Osprey extends far beyond its natural beauty and cultural richness. This community is firmly rooted in the present and looks to the future, offering top-rated schools committed to nurturing the next generation of leaders, thinkers, and creators. The presence of these educational institutions, coupled with a host of excellent amenities from dining and shopping to recreational facilities, makes Osprey an ideal place for families seeking a nurturing environment for their children.
In summary, Osprey offers an irresistible blend of coastal tranquility, community warmth, natural beauty, cultural richness, and modern amenities. It's not merely a place to live—it's a lifestyle that invites you to experience the best coastal living in a friendly, vibrant community.
4. Southgate: Vintage Charm Meets Modern Comfort
On the southern fringes of Sarasota, a short distance from the azure waters of Siesta Key Beach lies Southgate. This delightful community presents a captivating blend of vintage charm and modern comfort, encapsulated by distinctive mid-century architecture and serene tree-lined streets. Here, a tapestry of home styles, from quaint, cozy cottages to expansive family residences, are elegantly woven together, creating a vibrant community that exudes a timeless allure.
Taking a stroll through the tranquil streets of Southgate, one can't help but be charmed by the diverse range of homes that make up the community. Each dwelling, whether a snug bungalow exuding a retro charm or a large, modern family home, tells a story of architectural ingenuity and a dedication to comfort and style. Amidst the urban architecture, mature trees stand tall and proud, their leafy branches creating a natural canopy that provides a soothing shade and enhances the peaceful ambiance of this residential haven.
At the heart of Southgate, the Southgate Community Center serves as a pivotal gathering point. This bustling hub teems with life and community spirit, with many events, activities, and social gatherings hosted annually. The Community Center embodies Southgate's warm and welcoming nature, from lively holiday celebrations and communal potlucks to fitness classes and educational workshops. It provides a space for residents of all ages to come together, forge meaningful connections, and immerse themselves in the collective vibrancy of the community.
Southgate's allure is further enhanced by its prime location, offering residents easy access to what Sarasota offers. The vibrant downtown area, with its myriad dining, shopping, and entertainment options, is just a short drive away. Here, residents can indulge in world-class cuisine, shop at unique local boutiques, or enjoy an evening of culture and entertainment at the city's many galleries, theatres, and music venues.
Conversely, the breathtaking Siesta Key Beach is also a stone's throw away. Whether it's a morning dip in the ocean, a leisurely day of sunbathing, or a romantic sunset walk along the shore, Southgate residents can enjoy the best of seaside living at their convenience. The community's proximity to the bustling city and serene beach offers a unique balance, allowing residents to transition seamlessly between the vibrant cityscape and tranquil coastal living.
Southgate, with its vintage charm, modern comforts, community spirit, and prime location, offers residents an enriched lifestyle filled with opportunities for recreation, relaxation, and social connection. It stands as a testament to a community where history and progress coexist harmoniously, and every resident is part of a vibrant tapestry that defines the essence of Southgate.
5. The Landings: Exclusive Living in a Nature Lover's Paradise
Situated on the western edge of Sarasota, graced by the gentle breezes of the Gulf Coast, The Landings stands as an emblem of exclusivity and elegance. This gated community, renowned for its verdant landscapes and upscale homes, offers an unparalleled lifestyle experience that combines the best luxury living with nature's innate serenity.
The unique character of The Landings community is epitomized by its two distinct residential sections — The Landings Treehouses and The Landings Estates. Each neighborhood offers an impressive selection of properties, artfully designed to cater to various lifestyle preferences.
The Landings Treehouses is a quaint, tranquil residential area that genuinely lives up to its name. Homes here are designed to harmoniously blend with the lush canopy of trees that envelops the area, resulting in an ambiance akin to a tropical hideaway. These houses, reminiscent of sophisticated treehouses, provide residents with a unique living experience, combining privacy, serenity, and a sense of oneness with nature.
On the other hand, The Landings Estates is a neighborhood characterized by its opulence and grandeur. Here, you'll find luxurious homes that echo sophistication and class. With their expansive layouts, high-end finishes, and meticulous design, these residences provide an upscale lifestyle that does not compromise comfort or convenience.
Residents of The Landings community enjoy exclusive access to the private Landings Racquet Club, an epitome of leisure and recreation. The club offers facilities for tennis, swimming, and fitness, along with social events that further strengthen the community spirit.
Nature enthusiasts will be delighted by scenic walking trails that meander through the community, offering vistas of verdant landscapes and native wildlife. Given the area's diverse avian population, these trails serve as perfect routes for morning jogs, strolls, or bird-watching. Essentially, The Landings is a haven for those who yearn for a lifestyle that beautifully marries luxury with a deep appreciation for nature.
In conclusion, each of these distinct communities—be it the serene tranquility of Palmer Ranch, the eclectic dynamism of Gulf Gate Estates, the coastal charm of Osprey, the harmonious blend of vintage and modern in Southgate, or the exclusive elegance and natural allure of The Landings—has unique attributes that make them appealing in their own right. All while preserving the shared advantage of being just a quick, 10-minute drive away from the azure waters of Siesta Key Beach.
Living in any of these communities means experiencing the best of Sarasota's residential offerings, capturing a lifestyle embodying comfort, convenience, community, and continual closeness to nature.
If you have any questions, want to set up a time to talk or want to view a property you can call or text Dan MacKinnon directly at 941-323-9800