Nokomis Beach: Where Beach Beauty Meets Old Florida Charm
Posted by Daniel MacKinnon on Saturday, May 20, 2023 at 9:23:59 PM
By Daniel MacKinnon / May 20, 2023
Comment
Nokomis Beach: Where Beach Beauty Meets Old Florida Charm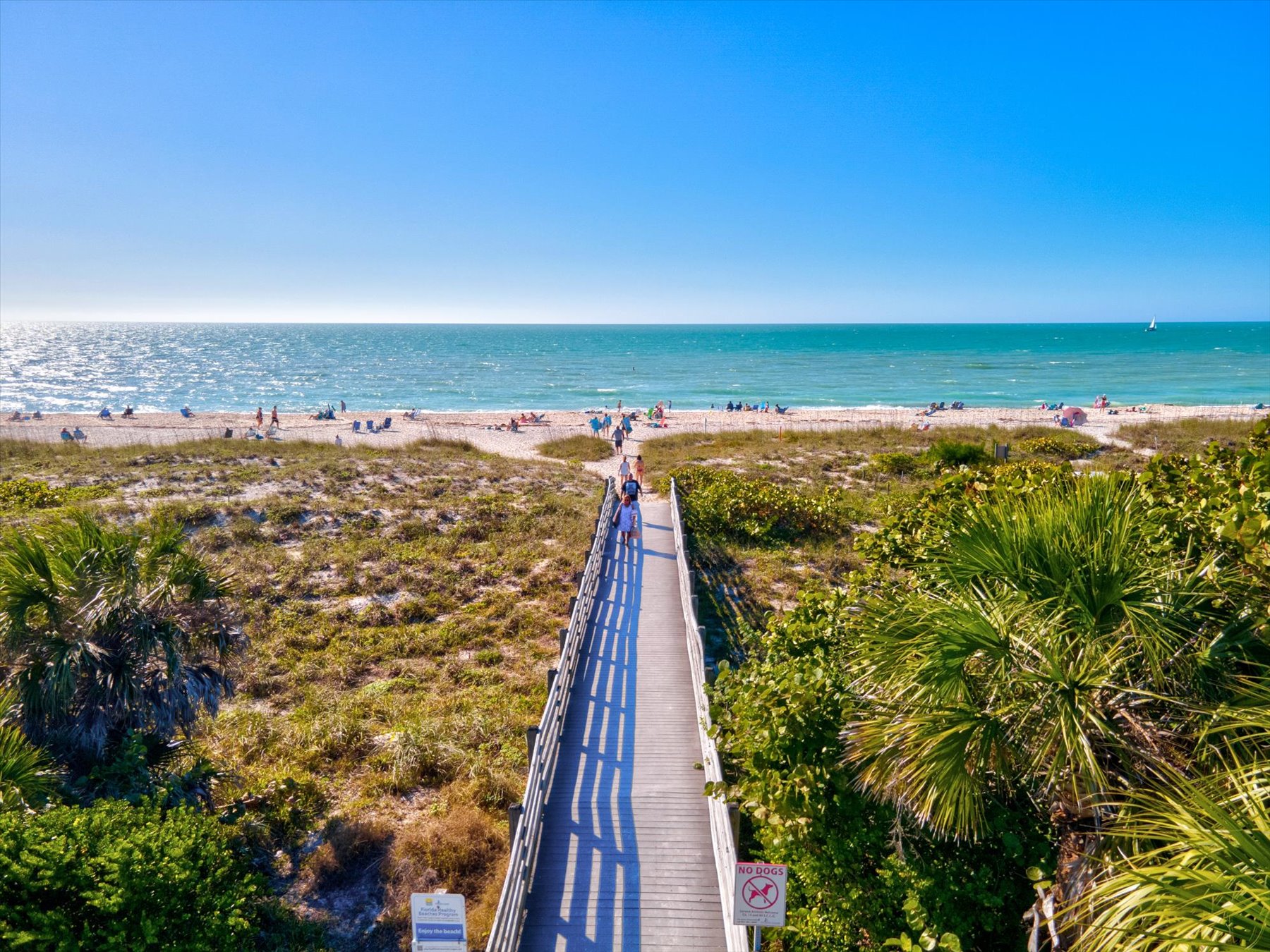 Welcome to Nokomis Beach, the hidden gem on Florida's Gulf Coast. Known for its beautiful seashore, relaxed atmosphere, and old Florida charm, Nokomis offers a unique combination of stunning natural beauty and small-town living.
The History of Nokomis
Nokomis, a quaint unincorporated town located south of Osprey and just north of Venice, has a rich history that contributes to its charm. The town started to take shape in 1917, when Alfred F. Wrede established the first post office with the name of Nokomis. During the same year, orthopedic surgeon Dr. Fred Albee purchased 112 acres from the Sarasota-Venice Company. With Ellis W. Nash, Albee created the Nokomis subdivision by subdividing the property into 130 lots, with streets radiating from two inner avenue circles and the new asphalt highway, which eventually became U.S. 41. On U.S. 41, Albee and investors built the Pollyanna Inn, a 35-room hotel, marking the beginning of Nokomis as a residential and tourist destination​1​.
Over the years, Nokomis has maintained its unique charm and tranquil beach town atmosphere. In the 1930s, it was described as a suburb of Venice, separated from that town by Shackett Creek, with a population of just 79​2​. Today, the town offers a blend of small-town living and beach town life, and while it has grown and developed, it has kept its laid-back vibe. The town's beautiful Gulf beaches, fishing opportunities, and boat launch ramp draw visitors who are charmed by its relaxed atmosphere. Nokomis now features numerous attractions, including the Legacy Trail for cycling and wildlife viewing, and it also offers access to the luxurious beachfront houses lining Casey Key
The Charm of the Nokomis Community
Today, Nokomis is home to just over 3,000 residents, encompassing a total area of 1.9 square miles, of which 15.65% is water. It's a community that offers the best of both worlds - a relaxed, small-town living and the opportunity to enjoy all that Florida's Gulf Coast has to offer, including lovely Gulf beaches, fishing, boating, and more​4​​5​.
The Pristine Shores of Nokomis Beach
At the heart of Nokomis lies its crown jewel - the Nokomis Public Beach. Located at the south end of exclusive Casey Key, the beach offers a tranquil escape with its beautiful shoreline and clear blue waters. Bordered by picturesque residential areas and exquisite Gulf Coast views, Nokomis Beach is a haven for both residents and visitors. Its warm sand is ideal for sunbathing, while the inviting Gulf waters make for perfect swimming conditions. For those with a taste for adventure, the beach's boat launch ramp provides the opportunity for water-based activities such as boating and fishing. Visitors can also take leisurely walks along the beach, soaking in the serene atmosphere and breathtaking sunsets. With its small-town charm and captivating natural beauty, Nokomis Beach exemplifies the allure of Florida's Gulf Coast, promising a truly memorable beach experience.
Activities at Nokomis Beach
One of the must-visit spots near Nokomis Beach is North Jetty Beach Park. This park is perfect for beachgoers to enjoy the Florida sun and the refreshing Gulf waters. Activities at Nokomis Beach extend far beyond the warm sand and refreshing waters. One of the must-visit spots near Nokomis Beach is North Jetty Beach Park. This park is perfect for beachgoers to enjoy the Florida sun and the refreshing Gulf waters. Apart from swimming, sunbathing, and picnicking, visitors can also enjoy a game of volleyball at the park. Fishing is another popular activity, thanks to the boat launch ramp and beautiful shoreline. The park's location at exclusive Casey Key's south end also adds charm. The climate in Nokomis is conducive for beach activities all year round, making Nokomis Beach a great destination whenever you decide to visit.
The Attractions of Nokomis
Nokomis isn't just about the beach, though. The town and its surrounding areas offer a variety of attractions and activities that cater to all types of visitors. For nature lovers, the Oscar Scherer State Park provides scenic surroundings, beautiful camping spaces, hiking trails, and river scenery. It's a haven for bird-watchers, home to diverse birdlife, including the friendly native scrub jays. For those into sports and recreation, the Nokomis Community Park offers 17 acres of space with numerous courts for basketball, volleyball, tennis, and even a cricket field. If you're into biking and wildlife, the Legacy Trail offers a great route for cycling and strolling, with plenty of wildlife to discover along the way, including bald eagles, ospreys, bobcats, songbirds, butterflies, and otters. And for those who love water sports, renting a jet ski at Cool Breeze Boat & Jet Ski Rentals will give you a unique perspective of Nokomis Beach and Casey Key, and a chance to encounter dolphins and many species of birds​.
Shopping at Historic Downtown Venice
Just a short drive from Nokomis, you'll find the Historic Downtown Venice, a shopping paradise with its avenues lined with individually owned quaint shops and boutiques. The Historic Downtown Venice offers a unique shopping experience, comprising gift shops, specialty art shops, and souvenir stores. This area is perfect for those seeking one-of-a-kind items, from handmade crafts to local art pieces. After a day of shopping, visitors can relax under the shade by the fountain or dine at one of the five-star restaurants nearby. The area's charming; small-town atmosphere makes shopping here a leisurely and enjoyable activity. Whether you're hunting for the perfect souvenir or simply window shopping, Historic Downtown Venice offers a delightful blend of retail and relaxation​.